State-space Modeling of A. Salmon Life Cycle Model
state-space-modeling-of-a-salmon-life-cycle-model.Rmd
Motivation and context
We illustrate the flexibility of the Bayesian state-space modeling approach for stage-structured population dynamics models fitted to series of sequential observations of different nature. The example is inspired from Rivot et al. (2004).
The method is applied to a fully stage-structured model for the Atlantic salmon life cycle with multiple life histories. The model describes the dynamics of the numbers of individuals at various life stages, with a discrete annual time step. It includes nonlinear regulation and has a probabilistic structure accommodating for both environmental and demographic stochasticity. The model is fitted to a dataset resulting from the comprehensive survey of the salmon population of the Oir River (Lower Normandy, France) between 1984 and 2001. Observation models are constructed to relate the field data to the hidden states at the various life stages. The observation process corresponds essentially to capture-mark-recapture (CMR) experiments for the evaluation of migrating juvenile and spawner runs and random sampling for demographic features.
We take into consideration a detailed description of A. salmon life histories: fish from the two smolt age classes (1+ Smolts and 2+ Smolts) can either spend one or two winters at sea (1SW and 2SW in the following) before returning as spawners. One and two sea winter spawners resulting from 1+ Smolts are denoted \(Sp11\) and \(Sp12\), respectively, and those issued from 2+ Smolts are denoted \(Sp21\) and \(Sp22\), respectively. Both \(Sp11\) and \(Sp21\) are 1SW fish but with different smolt-ages, and \(Sp12\) and \(Sp22\) are 2SW fish with different smolt-ages.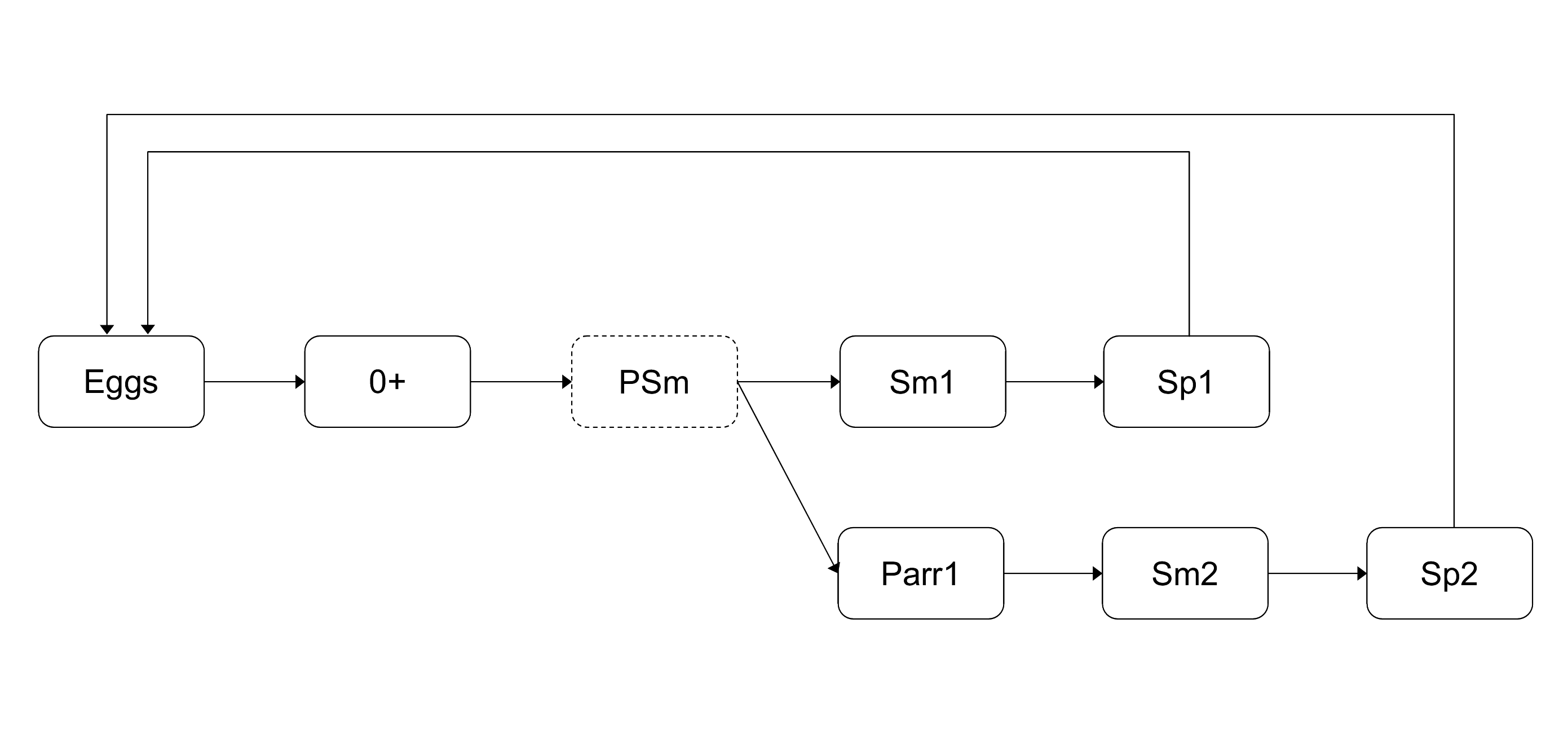 Modeling
Here we adopt a slightly simplified model than the one described in the corresponding chapter of the book (Chap. 11.3, Parent and Prévost (2013)).
References
Parent, E., and E. Prévost. 2013. Introduction to Hierarchical Bayesian Modeling for Ecological Data. CRC press Boca Raton, Florida.
Rivot, E., E. Prévost, E. Parent, and J. L. Baglinière. 2004.
"A

B

ayesian State-Space Modelling Framework for Fitting a Salmon Stage-Structured Population Dynamic Model to Multiple Time Series of Field Data."
Ecological Modelling
179: 463–85.